Standing out in the crowded field of construction isn't easy, but it is extremely important to appeal to those looking for employment in the industry. Long before there was a dearth of people choosing to enter the trades or an employee shortage due to the pandemic, leadership at Branco Enterprises knew that building an inclusive company culture with the opportunity for advancement from within would help them recruit and retain the best talent in the industry.
Advancement Opportunities
Founded as Branham Construction by the Branham family 88 years ago, the company evolved into Branco Enterprises after being incorporated in 1976. While the leadership of the company had previously only been comprised of members of the Branham family, that is no longer the case. "It's a good feeling knowing that there is some upward mobility possible," said Garrett Dowling, head of business development. "It's about hard work and being a good team player. Everyone can be a piece of that puzzle. There's plenty of opportunity to climb the corporate ladder."
Family Friendly
Dowling said the company commitment to family extends to every family of every Branco employee. "They know, understand and care that we all have families and that some of us have children. They give us the flexibility to pick our kids up from school or take them to the dentist or sporting events. They know what it's like, so they give us the freedom to make sure we're at those events. They want us to be there for our families." The company also hosts an annual appreciation dinner, a summer picnic, as well as sponsoring many other extracurricular activities for employees and their families.
Employee Feedback
Branco employs an open-door policy when it comes to employee input. "If there's something you think should be changed, something that will make jobs easier or help the bottom line, that suggestion or advice is always taken seriously," said Dowling.
Apprenticeship Program
To cultivate a future workforce and an interest in the construction industry, Branco started a carpentry apprenticeship training program in 1993. The program is certified by the U.S. Department of Labor's Bureau of Apprenticeship and Training and has been run jointly by Branco and Crowder College since 2015. In 2019 Branco added a partnership with OTC to better accommodate our growing number of Springfield based employees. Branco apprentices learn skills in the classroom and train in the field alongside Branco journeymen carpenters. The apprentice gains knowledge and hones their craft, while Branco gains a valuable and skilled employee. Graduates of the apprenticeship program are recognized and certified as Journeyman Carpenters by the U.S. Department of Labor. Apprentices also gain college credit and certificates through the apprenticeship program. Upon successful completion of the program graduates are only 15-17 credit hours from acquiring enough credits for an associate's degree.
"I'm always amazed at the foresight of the Branco's leadership when it comes to the culture they created," said Dowling. "They are committed to cultivating and keeping happy employees who genuinely want to work at Branco."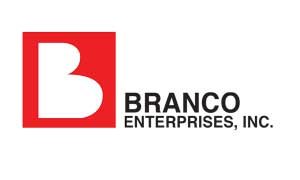 1864 South State Highway MM

Springfield, MO 65802

12033 E. Hwy 86

Neosho, MO 64850
417-451-5250
Branco.com
Top Executives:
CEO- John Branham
President- Justin Branham
Vice President- Sean Thouvenot
Number of Employees: 144
Year Founded: 1933
Product or Service: 
Commercial Construction, General Contractor, Design Builder, Construction Manager