September 2021 will mark the 115th anniversary of Ozark Bank. "The fact that we've been serving the community for this long tells us that we're doing our job well," said Chairman of the Board John "Fred" F. Hedgpeth II. "We've weathered storms from the Great Depression up through the COVID-19 pandemic and we're still here."
"We're extremely proud of our history," said CFO and Fred's son, John Hedgpeth. "We've learned a lot and experienced a lot in those 115 years. We're very excited about where we're headed with Ozark Bank."
Fred's grandfather, Dr. D.F. Hedgpeth, who was John's great grandfather, started the bank in 1906. He invested $2,000 and with other investors, capitalized the bank at $10,000. Today the bank boasts $27.5 million in capital.
But the family connections don't stop there. Fred's father was involved with the bank for 45 years and his mother made it into the 50-year club of the Missouri Bankers Association. Fred himself has been with the bank for 44 years and John will celebrate his official fifth year with the bank which coincides with its 115th anniversary. John's first duties at the bank began with a courier job during his high school summer breaks, moving into his leadership position in 2016. Fred's sister Laura Haseltine is also involved in the bank as is his daughter and John's sister, Katie Baker, who is marketing director.
In June of 2020, Ozark Bank announced John Hedgpeth as chief financial officer and executive vice president, making him the fourth generation of the Hedgpeth family to serve in a leadership role at the bank.
"The legacy is so important to me," said John. "Growing up seeing my entire family on the Hedgpeth side being a part of the bank is something I was very proud of. From day one I knew that I wanted to work at Ozark Bank. To have the opportunity to work in a leadership position at a business that my family has worked so hard for since 1906 is something I cherish."
Fred is an avid outdoorsman who started his career as a farmer but transitioned to the bank 44 years ago. "I have enjoyed it thoroughly," he said. "One advantage we have is local ownership. We can accommodate clients' needs, make a decision and not prolong the process to get them an answer quickly."
But involvement and longevity aren't just all in the family, President R. Scott Harris has currently been with the bank for 11 years with a 6-year stint prior to that. "We're a quintessential community bank," said Harris. "It's really fun and exciting to get to see the businesses that we work with grow and prosper. We've seen a lot of successes through the years and hopefully we've played a small part in the success of Ozark and Nixa and the surrounding communities."
"We have the flexibility to look at each individual situation and judge it on its own merits versus if it falls outside of a certain category, we can't do it," said Harris. "We have the flexibility that we can make those variations where appropriate."
The family has been approached more than once about selling the bank through the years but has always declined, insisting on keeping the bank in the family and community. "We've been approached by people who wanted to buy Ozark Bank," said Fred. "But we've chosen to stay a family-owned community bank that serves Ozark, Nixa and the Springfield area. We're very proud of that."
"You always hear about mergers and acquisitions and there's a lot of talk about small banks being driven out of competition but I think there's always going to be a need for small community banks such as ourselves because of that personal touch that is the true aspect of community banking," said John.
"We take pride in the communities we serve and we're very optimistic about the future," says John. "Knowing our customers and providing them with tailored solutions to fit their needs and help them realize their financial goals is our priority."
Part of being a strong member of the community is supporting community organizations and that's a key tenet of Ozark Bank's community minded philosophy. Ozark Bank supports various nonprofits in the community including Community Foundation of the Ozarks, Least of These, Care to Learn, Honor Flight of the Ozarks and the Ozark Historical Society, among others. They take pride in supporting local teams and events throughout the community.
"I'm extremely excited for our 115th anniversary and looking forward to many more milestones in the future," said John.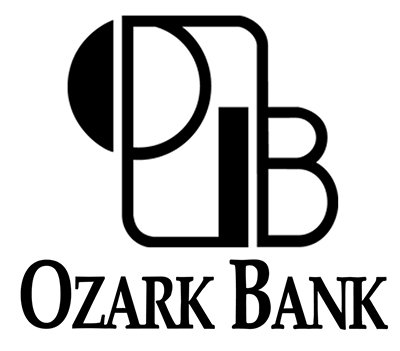 106 N 2nd Ave.
Ozark, MO 65721
Phone: 417.581.2321
Top Executives:
John F Hedgpeth II, Chairman of the Board
R. Scott Harris, President
John R Hedgpeth, CFO
Year Founded: 1906
Number of Employees: 64
Product or Service: Banking